Student's company offers products for natural breast enhancement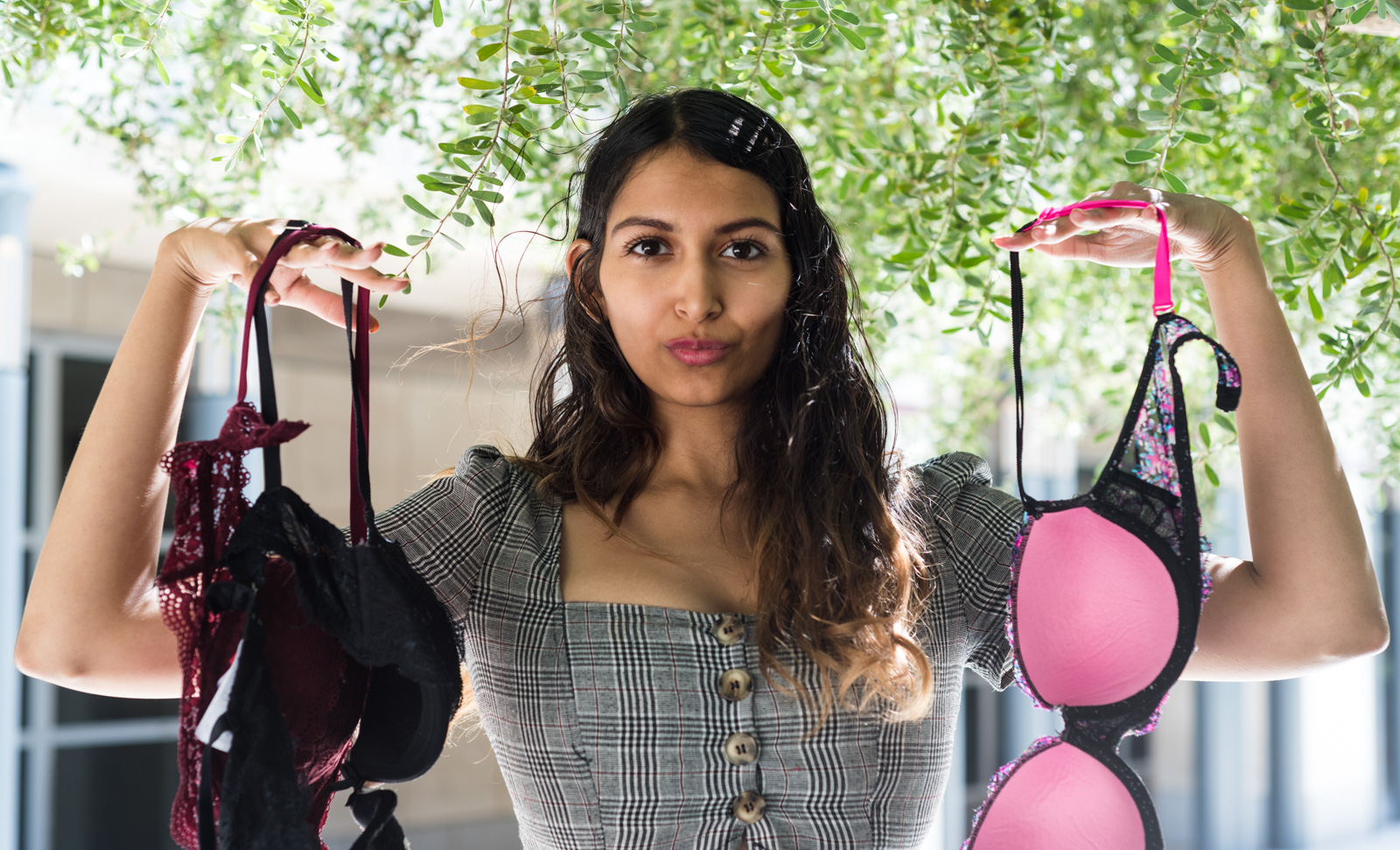 Third-year neuroscience student Afshan "Affy" Hussain founded Nari Company, a business that sells oils, bars and guides to enhance natural breast growth. The approaches are not backed by scientific evidence – instead, they were passed on through generations of her family and have shown results, Hussain said. (MacKenzie Coffman/Assistant Photo editor)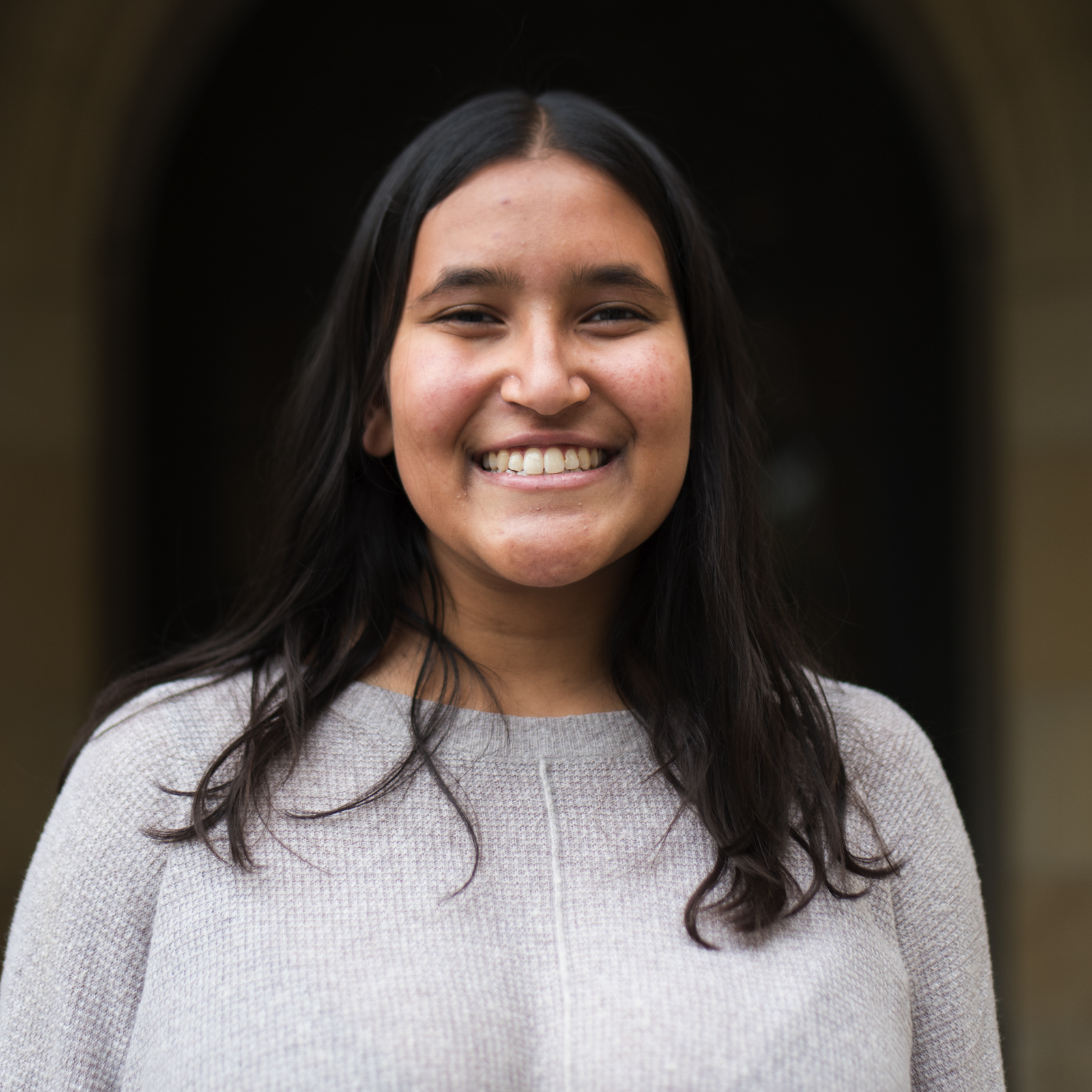 Afshan "Affy" Hussain went from scheduling a breast reduction consultation to promoting natural approaches to breast growth.
The third-year neuroscience student said she struggled with back pains and ill-fitting clothing but began seeing her body differently after being approached by other women saying they admired her figure. Five weeks ago, her experience led to the inception of Nari Company, through which she sells food, oils and a guide for natural breast enhancement. Hussain said the company's products are based on recommendations and recipes passed down through her family known to increase breast size. The all-natural products, if they prompt results, can help customers feel more confident in their figures, she said.
"You realize that everyone has issues with their body. I think (Nari Company) encourages body positivity," Hussain said. "It's not, 'Oh you're bad for having a small chest' – it's, 'If you don't like what you look like, here's a natural way to change it.'"
Nari Bars, a growth guide, massage oil and morning oil are the four products currently listed on the brand's website. The bars contain ingredients such as coconut, almonds and dates – essentially high-fat foods packed with vitamin E, she said. The guide lists simple chest-strengthening workouts, such as pushups, and mentions foods and drinks that should be avoided when trying to develop fuller breasts, such as caffeinated products.
Nari's website and Instagram page also include before-and-after photos of Hussain's "test bunnies" who follow her regimen. Each photo set focuses on one woman's chest, showing her with a measuring tape wrapped over her bra in both pictures to indicate growth. Rather than measuring differences in cup sizes, which tend to change over long periods of time, Hussain said she keeps track of the testers' breast growth in inches, which is a better indicator of short-term growth. She said one of her testers' bust grew over half an inch in one week, and another tester's bust went from 33 inches to 36 over a period of five weeks.
Though effects of lighting and posture could affect the apparent size difference between photos, Hussain said she captures them herself to personally ensure her products have the desired effect. Natalie Carmack, one of Hussain's testers, said each photo is taken in front of an all-white background, includes lighting that shines directly on her chest area and shows her wearing the same unpadded bra in both photos.
Carmack said she has been using all four of the Nari products for approximately six weeks. After starting her day with a spoonful of Nari Morning Oil and a Nari Bar, Carmack said she performs two self-massages a day. The process takes about 25 minutes – 15 minutes of massaging her breasts in a circular motion with the oil; setting a hot towel on top of her chest for a couple minutes to help the oils soak in; doing 20 armpit lifts, a motion that requires pushing the breasts up toward the armpits, and 20 pushups.
"(Using Nari Company's products is) a lot cheaper and I don't have to go under the knife," Carmack said. "I think it's just a safer and a more natural way to grow your boobs."
While the growth ingredients can easily be Googled, Hussain said she likes that they are all compiled into a single guide. None of the products sold on the website or recommendations in the guide are scientifically backed, Hussain said, but rather are based on her own experience and her family's experimentation. Azra Hussain, Affy Hussain's mother, said she didn't get her period or develop any breasts until the age of 15. She said she felt concerned and insecure about the delay in her puberty, wondering why other girls had already begun menstruation and had curvier bodies than she did. Growing up in India particularly influenced such insecurities, as many people inquire about changes throughout adolescence, she added.
Azra Hussain's mother was especially focused on her daughter's development of a fuller figure and believed she would never marry if she wasn't curvy, Affy Hussain said. Azra Hussain said she then began consuming daily spoonfuls of a homemade oil created from a blend of nuts and coconut – some of the primary ingredients in Nari products – and soon after got her period and grew larger breasts.
"It's sort of like chicken soup, like just everyone knows that chicken soup is good if you have a cough and cold or flu. It seems to do the job," Azra Hussain said. "Is that scientific? I don't know."
Even if there is no scientific evidence connecting them to breast growth, the ingredients in the bars and oils won't cause any harm, Azra Hussain said. Compared to other unnatural breast enhancement forms, such as surgical methods that could foster infection, Nari products present fewer risks, her daughter said. While Nari specifically focuses on a natural approach to body enhancements, Affy Hussain said she doesn't pass any judgment toward those who invest in artificial breast enhancement.
"There's no shame in it. I'm sure if there was a dick-growing bar guys would be eating it, too," she said. "Maybe it's a womanhood thing, maybe it's a confidence thing, maybe you just feel more attractive – everyone has their own reasoning."
Jain was the PRIME director for the 2020-2021 school year. She was previously the PRIME content editor during the 2019-2020 school year and an assistant Arts editor for the Lifestyle beat during the 2018-2019 school year.
Jain was the PRIME director for the 2020-2021 school year. She was previously the PRIME content editor during the 2019-2020 school year and an assistant Arts editor for the Lifestyle beat during the 2018-2019 school year.