Student's solo art exhibition draws curiosity on fluidity of identity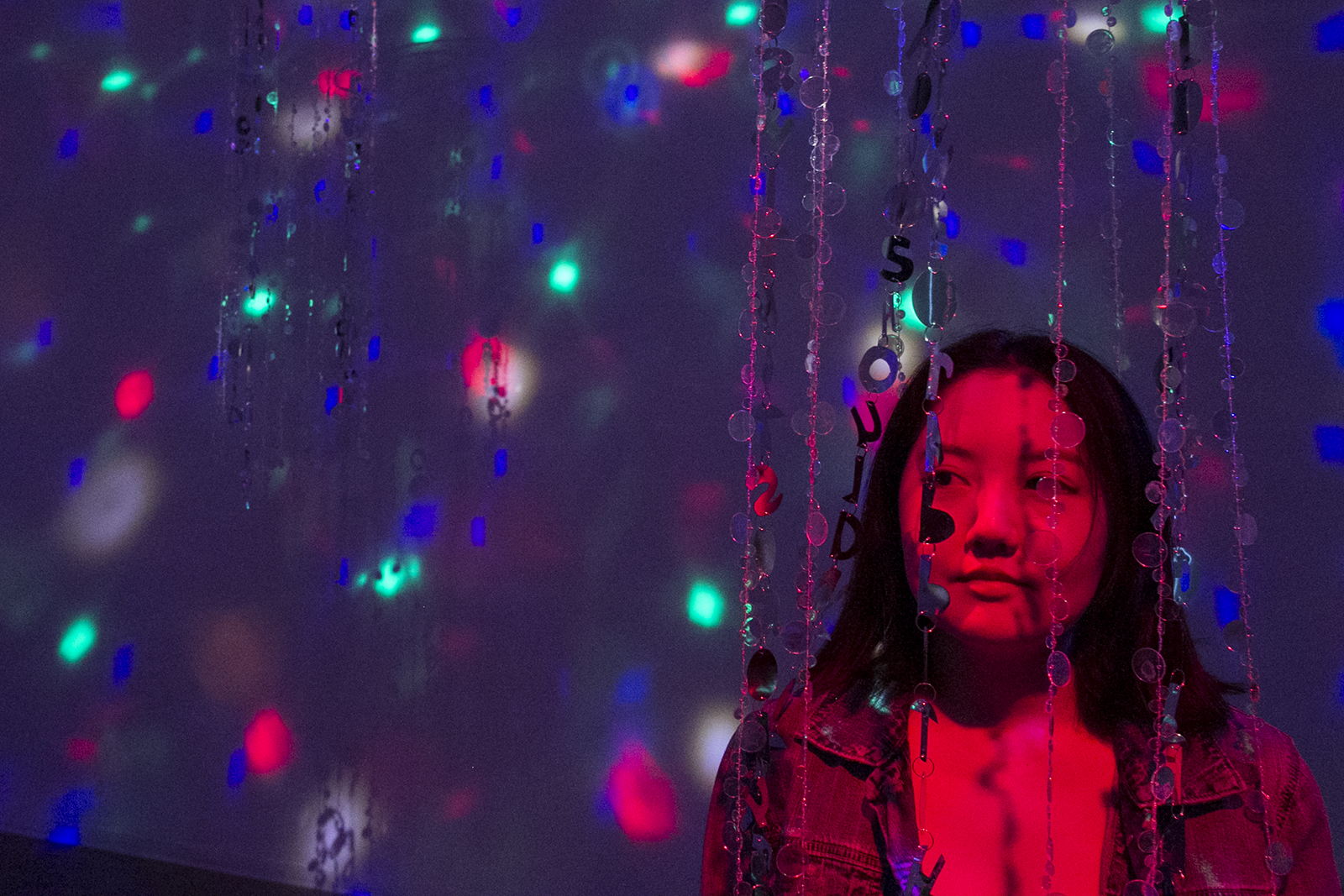 MFA student Alice Jung explores the disconnect between her South Korean and American identities in her solo exhibition, "Curiouser2." The show examines the fluidity of identity through the theme of "Alice's Adventures in Wonderland" by Lewis Carroll. (Zinnia Moreno/Daily Bruin)
"Curiouser²" Broad Art Center Tuesday 5:00 p.m., FREE
Ten-year-old Alice Jung didn't know how to speak Korean when she and her family moved from Tucson, Arizona to Seoul, South Korea so she sketched. She drew bluebirds to prove to her classmates that birds other than pigeons existed in America. Until she mastered the language, she spoke through her art.
"The only way I knew how to communicate with others was to draw pictures," Jung said.
Now an MFA student, Jung still believes art is a way of communication. She will present her first solo exhibition titled "Curiouser2," pronounced "Curiouser Squared," Tuesday, which she said is based on the leftovers of identity confusion and cultural displacement from her childhood.
Jung said the name is inspired by a scene in Lewis Carroll's "Alice's Adventures in Wonderland," in which Alice says "curiouser and curiouser." She said she wants the audience to be curious when viewing her exhibition.
Jung said she chose "Alice's Adventures in Wonderland" because of the commonalities between her story and Alice's. Both experienced confusion about their identities after being transported from a familiar to an unfamiliar location. While Alice's confusion begins with her tumble into the rabbit hole, Jung said hers began when she moved to South Korea.
Jung's focus lies in performative art, a genre which caters to stimulating more than one human sense. She will combine singing and dancing with aromas and machines that stimulate the tactile senses.
Chandler McWilliams, a Design | Media Arts professor and Jung's mentor and friend, said her performative art form contrasts her seemingly reserved personality, but represents her well.
"Her work is very bold and bright, and loud and challenging," McWilliams said. "She's generally very quiet, but you catch (the vibrancy) in her humor."
Jung's art represents her identity, but she said it also represents her culture and personal history.
Jung said she believes her identity aligns with both South Korean and American cultures – her father, Min Whan Jung, said her beliefs developed because she grew up in both countries.
"Because she went to school in the United States and grew up in Korea, she is just as much Korean as she is American," Min Whan Jung said. "She speaks to me in both Korean and English."
The cultural clash of being simultaneously South Korean and American caused Jung to question her identity and to instigate a social experiment in high school. By altering her own Facebook profile, she manipulated her image in a way similar to how Alice manipulates her appearance from the sweets she eats in Wonderland.
Jung said that, in 2005, Facebook allowed users greater freedom to change their names and places of origin, letting her create fake identities to observe the reactions of her real-life and virtual friends.
For one of the profiles, she used a normal photo of hers, but changed the place of origin to Pyongyang, North Korea because she said the population has an ambiguous culture.
"My friends knew what I was up to, but people started to make rumors about me that I'm from North Korea, so I became North Korean," Jung said.
She said she thought the experiment shed light on the fluidity of identity and how easy it was to become another person. In her exhibition, Jung hopes to highlight the identity crises both she and Alice from Wonderland feel.
She will highlight her identity crises by illustrating cultural differences between South Korea and America. She will be mixing cultures in her performance by wearing a light-blue blouse similar to Alice's dress and singing quotes from "Alice's Adventures in Wonderland" to traditional South Korean tunes and ambient music.
She said she hopes her exhibition will simulate an experience similar to when she and Alice from Wonderland were put in an unfamiliar setting – the disorientation, the fluidity of identity.
"I say (my identity) changes over time," Jung said. "'Alice in Wonderland' has always been on my mind because she says, 'I've been changing so many times throughout the day I don't know who I am anymore.'"