Wine About It: Rosés refresh as they live up to hashtag-based Instagram hype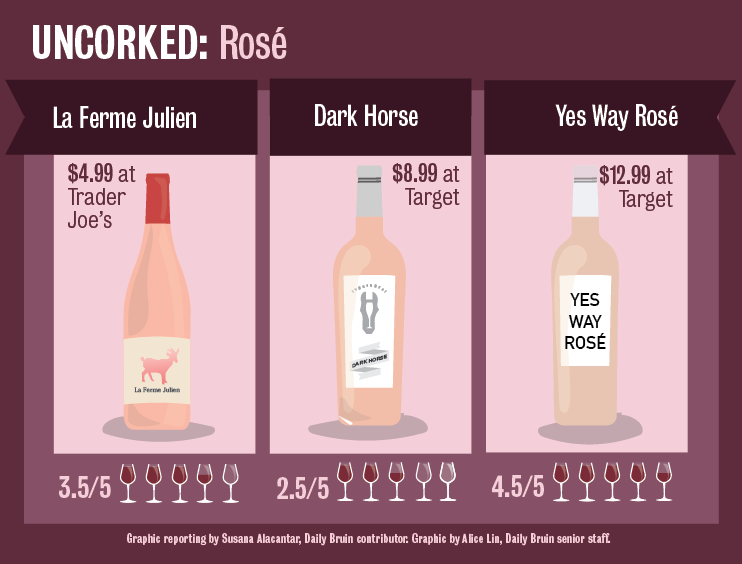 April 17, 2018 10:14 p.m.
Life is filled with moments shared over a glass of wine, whether fueling a gossip session with friends, or destressing after a long day of school. But what are the best options for the average broke college student who can't afford a $50 bottle of wine? Each week, columnist Susana Alcantar will discuss different wine options for under $15, where to get them in Westwood and which are worth your money.
It all started with a hashtag: #roséallday.
Rosé, one of the world's most beloved and fashionable wines, has gained popularity in the past few years on Instagram unseen by most other wine types. People even wear shirts with the phrase to proclaim their love for the drink.
A common misconception about rosé wine is it comes from mixing red and white grapes. However, it's actually created by juicing red grapes and then pouring the juice on those same grapes to incorporate the color of the skins. Winemakers let the mixture sit for only a short period of time in order to achieve the pink hue.
Purchasing rosés was fun but difficult – I had many options to choose from in every store I went to. It felt like I was five years old all over again, trying to decide which Barbie doll I wanted from an aisle of toys. But after a couple of hours of shopping, I was able to settle on three bottles.
I found the first, La Ferme Julien rosé, at Trader Joe's for $4.99. I was definitely motivated to buy it not only because of the price but also because of the cute drawing of a goat on the bottle. In terms of color, the wine is a light pink-toned rosé with salmon and slightly bronze hues. I spent a good five minutes trying to pinpoint what it smelled like, but nothing jumped out at me. The description also did not provide any guidance and left me feeling skeptical about liking the wine, but once I tasted it, I immediately changed my mind.
I loved how refreshing the wine tasted, and discerned several flowery notes with a hint of fruit. Despite its delicious flavors, it is a little acidic and dry, both of which linger in your mouth for a bit.
My second rosé option, the $8.99 Dark Horse rosé from Target, had a darker color than the La Ferme Julien – more of a salmon than a pink. I smelled delicious scents of red fruit such as cherry, which were sweet but not too sweet. The bottle advertised flavors of raspberry, fresh strawberry and citrus, with traces of mineral and floral notes.
Upon first taste, I was able to detect the raspberry and strawberry, albeit only slightly, and I enjoyed the mixture of sweet flavors combined with the more natural mineral and floral notes that were also present. However, after some time, the wine started to feel heavy and overwhelming. The sweetness gradually disappeared and I tasted more of the minerality, which almost made the wine feel drier over time without adding any refreshment during the process. I finished my glass but wasn't sure if I wanted a second one.
The Yes Way Rosé, which I also bought at Target, cost the most out of the three at $12.99. The French rosé option was established by the creators of the popular Instagram account with the same name. The company even sells merchandise such as shirts with the phrase "Yes Way Rosé" printed on the front, embracing the social media craze surrounding the wine.
As I poured myself a glass, the color instantly caught my attention as it differed quite a bit from the two previous wines – a very pale pink with an almost rose gold tint. I also smelled hints of peach and citrus that were subtle but lovely. And as I sipped my glass, I immediately fell in love with the perfect combination of mild fruity and floral notes.
I usually don't like wines that are primarily dry but this one made me a fan. The rosé was easy to drink and only got better over time due to its refreshing and crisp flavors – one glass was simply not enough. I immediately sent pictures of the wine to my friends and told them we'd be drinking more bottles the next time we got together.
Without a doubt, Yes Way Rosé is the best out of three options. Though La Ferme Julien rosé is a good option especially considering its price, it isn't as well-rounded in flavor. I might not be dropping $75 on a Yes Way Rosé sweatshirt anytime soon, but I certainly will be drinking the wine all spring and summer long.